2018-19 Malave Leadership Academy Students
The Ernesto Malave Leadership Academy program offered a three-day retreat at Villa Roma Resort in Callicoon, NY from October 19-21, 2018.
Kingsley Arasomwan , Estelle Yessoh, and Duubar Villalobos Jimenez have been nominated by the Student Life Administrators from the School of Professional Studies to participate in the Ernesto Malave Leadership Academy for the 2018-2019 Academic year; these nominations were because they have demonstrated extraordinary leadership on our campus and in our community.
The Malave Leadership Academy serves as a resource for student leadership development that provides access and opportunity for students to further develop skills, knowledge, experience, and self-efficacy necessary to become global leaders through experiential civic engagement, advocacy activities, and leadership competency training.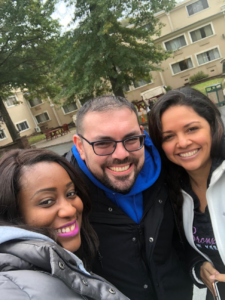 During this retreat, CUNY students from all campuses received first-hand training in diverse areas such as SPARC, which stands for Sexual and Interpersonal Violence Prevention and Response, performed by Ms. Rodney Pepe-Souvenir, University Title IX Director.
A great addition to this year's retreat was the presence and participation of Dr. Christopher Rosa, Interim Vice Chancellor for Student Affairs. Dr. Rosa provided a motivational presentation in which he urged the importance of engaging and becoming responsible leaders with inclusion, responsibility, and respect for the rights of others.
Some program activities included: "Networking", "Emotional Intelligence", "Self-reflection – Get ready!", "Ethical Leadership & Diversity" and team building activities such as "Tart Flip" & "Human Knot" alongside "5-minute handshake" that required trust and communication.