Supreme Court Justice Ruth Bader Ginsburg died September 18, 2020, of metastatic pancreatic cancer at her home in Washington DC, surrounded by family. Justice Ginsburg was nominated to the nation's highest court by President Bill Clinton in 1993. Before joining the Supreme Court, Justice Ginsburg served as a justice on the U.S. Court of Appeals for the District of Columbia.
Ginsburg was born in Brooklyn, New York, in 1933; her father's name was Nathan Bader; he immigrated to New York in 1911 and worked as a furrier. Her mother, Celia, died of ovarian cancer when Ginsburg was a teen. Despite the loss of her mother, Ginsburg graduated at the top of her class from Cornell University in 1954. In 1955 she married Martin D. Ginsburg and gave birth to her daughter Jane. The couple had a son named James in 1965. Ginsburg attended Harvard Law and finished her last year of law school at Columbia Law in 1959.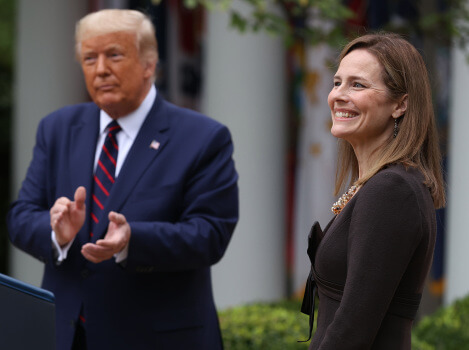 In the White House Rose Garden this past Saturday, President Trump nominated Judge Amy Coney Barret to replace Justice Ginsburg's seat. Justice Barret currently serves as a circuit judge on the U.S. District Court of Appeals for the Seventh Circut. She was born in 1972 in New Orleans, Louisiana, graduated from Rhodes College summa cum laude in 1994, and earned a law degree from Notre Dame Law School. Senate Confirmation for Judge Barrett is set for Oct, 12.