Dr. Vita Rabinowitz, Interim Chancellor, speaks to scholarship recipients at the USS awards dinner.
Three outstanding SPS students received merit scholarship awards that were announced at a USS reception. The awards went to George Athanassiou, Monique Charles, and Eileen Thrush. The event was held at the CUNY Graduate Center on October 12, 2018. The USS handed out slightly over 100 scholarships for a total over $120,000, This year saw a record number of applicants from all campuses.
The Ernesto Malave Merit Scholarship for undergraduates was received by Mr. Athanassiou, an undergraduate business student. Ms. Thrush, a disabilities studies MA student, was awarded the Malave graduate award. One undergraduate and one graduate student per CUNY campus is eligible to receive the Malave scholarship. The Malave award is $1500.00 and is based on outstanding academic and leadership performance.
Ms. Charles, a disabilities studies MA student, earned the Donald and Mary Ellen Passantino Scholarship for Students with Disabilities. This fund extends $1,000 to disabled students who are leaders and academic achievers. Like the Malave award, this scholarship is also awarded to one student per CUNY campus.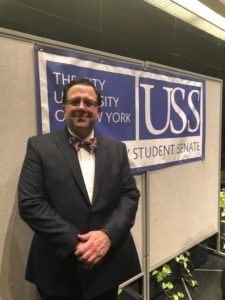 Mr. Athanassiou, who plans to shift from the business world into education, intends to use his scholarship money for his first year of graduate school. He said that he is excited to be able to give back by sharing the knowledge that he has gained with the next generation of achievers.
Even though he got the invitation at the last moment, he was able to attend the reception dinner. He said that he was glad that he was able to attend the award ceremony because he enjoyed meeting the recipients from other campuses. Ms. Thrush and Ms. Charles could not be reached for comment.
For more information on these and other scholarships, visit the USS scholarship website.