Sign-in desk with swag at Student Leadership event. Photo by Lisa Sheridan
Each fall and spring semester, CUNY SPS students pay an activity fee of $23.55. The fee covers several services for students, including events intended to build community. Subsequently, the Student Association determines how to spend these funds, and plans many of the events that the fees cover. The closing months of the spring semester bring lots of activities sponsored by the Student Association. To ensure access for students who don't live in the NYC area, some of the meetings were broadcast live online. The following segment is a quick overview of a busy calendar. The Pop-Up Museum, held April 3, 2019, was covered in a previous article.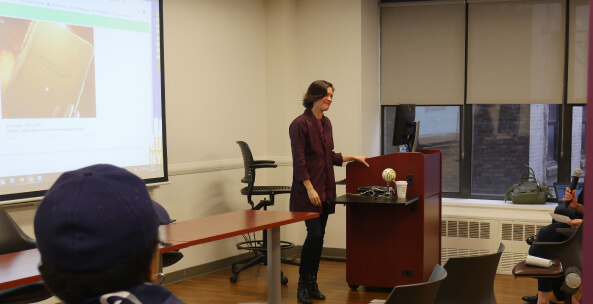 The Communications and Media Colloquium
The Communication and Media Department organized a seminar Dr. Nina Hien, a consortial faculty member at SPS, discussed the value of ephemeral work by reviewing her work posted on Vine. Vine, a now-defunct social media platform, was a platform where users uploaded 6-second short video loops. Dr. Hien shared some of her most popular short films, in addition to archived Vine classics. The video is available with this link, and the webinar recording is here.
The Leadership Conference: Leadership in the Digital Age
Leadership in the Digital Age was the theme for Student Association annual leadership conference. The keynote speaker was Ms. Honey Berk, Managing Director, CUNY Building Performance Lab. The CUNY Building Performance Lab works at reducing the carbon footprints of CUNY buildings. Ms. Berk spoke about the importance of women in tech. She also told the story of her struggles within tech's male-dominated field. The theme attracted lots of information systems and data science students, although students from all disciplines attended this event held April 12th, 2019,
Dean Mogulescu, with Student Association co-chairs, Tara Santos and Rohan Ketwaroo at the Leadership Conference. Photo by Lisa Sheridan
Afterward, breakout sessions were run by SPS professors Dr. Bradley Gardener, Dr. Elizabeth Bishop, and CEO of Chainhaus, Jamiel Sheikh. The breakout topics covered were connecting leaders, data visualization, and blockchain careers.
4th Annual HRL Professional Development Mini-Conference
As the only on-campus discipline at SPS, students from the Human Relations Department had a chance to meet outside the classroom and discuss their personal career goals at the professional development conference. To kick-off the evening on May 6th, Dr. Bonnie Oglensky, the program's director and the newly hired assistant director, Lianna Scull, spoke about the core competencies of human relations. Following the program directors, Shannon Gallo and Kelsey Richardson of Career Services addressed the group. Next came breakout brainstorming sessions. Additionally, students had the chance to get professional portraits for their LinkedIn profiles.
Save the Date
The annual Spring Reception is planned for this Wednesday, May 15th. In addition to the traditional catering, wine and beer will be served. The Student Association endorsed changing the drinking policy since most SPS students are adults.