Dean John Mogulescu and Executive Vice-Chancellor and Chief Operating Officer, Hector Batista
The role of the Executive Vice-Chancellor and Chief Operating Officer of CUNY usually takes place behind the scenes and away from students. However, Hector Batista, who recently took over the position, wanted to meet students to hear their stories and concerns directly. So Mr. Batista broke tradition and paid a visit to CUNY School of Professional Studies this past September. He met with undergraduate and graduate students who made up the discussion panel from most of the academic departments within SPS. Dean Mogulescu, Associate Dean Jennifer Grace Lee and Associate Director of Student Life, Anthony Sweeney, also joined the roundtable discussion.
Mr. Batista spoke of how excited he was to address the upgrades needed to improve the college experience for CUNY's diverse student body. As a former head of the Brooklyn Chamber of Commerce, Mr. Batista knows about fostering growth in diverse communities. He also championed for youth in his previous post as CEO for the Big Brothers Big Sisters of New York City. In a later interview, Mr. Batista explained that his objective as COO is to "operationally support the agenda of Chancellor Rodríguez through finance, human relations, facilities and public safety."
Félix Matos Rodríguez, CUNY's first Latino Chancellor, laid out his priorities for the future of CUNY: career engagement, student success and investment in pedagogy. The recent EdCast interview is shown below in an embedded video.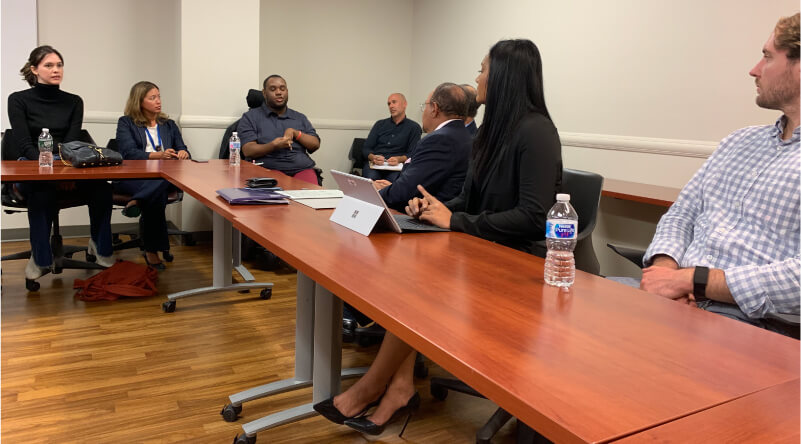 In the meeting, students told stories about the challenges of juggling work, family and studies. After the discussion with CUNY SPS students, Mr. Batista said, "I admire the resiliency of non-traditional students, and their ability to persevere despite numerous challenges. I will do whatever I can to make those challenges easier." He suggested immediate areas for improvement, "Students who work full-time need longer library hours, and we need our facilities to accommodate the disabled."
To pay for the necessary improvements, Mr. Batista plans to diversify funding and expand philanthropy. He also intends to find areas for institutional savings that can be reinvested.
As a message for SPS students that Mr. Batista was unable to meet when he visited campus, he offered, "Keep advocating for yourself. Continue to be resilient, and when you see the COO on your campus, I want to hear from you. Come and say hi."
EdCast 147 An Interview with CUNY Chancellor Félix Matos Rodríguez