Group picture of the 2018-2019 USS delegation members
SPS graduate student Leonard Blades was elected as the USS Vice-Chair for Disability Affairs when student delegates from the CUNY student senate, known as the USS, voted in their executive council at Baruch College on Sunday, October 21, 2018. The USS is the overarching CUNY-wide student government and advocates for the more than 500,000 students registered at the 24 different CUNY campuses.
Mr. Blades is currently in the SPS master's program studying disability services in higher education. He also works on the SPS Student Association, where he acts as the founding chairperson for the Abilities and Resources Committee.  As a member and advocate for CCSD, the CUNY Coalition for Students with Disabilities, Mr. Blades interacts frequently with the disability community throughout the CUNY system.  Mr. Blades' tenure of service for the USS steering committee will begin November 1, 2018.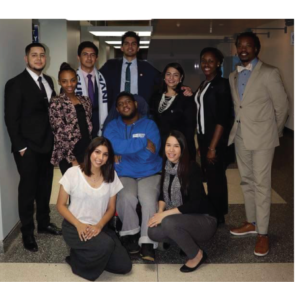 The other newly elected members of the USS steering committee include:
Haris Kahn, City College- Chairperson
Razieh Arabi, Baruch College-Vice Chair for Fiscal Affairs
Zunera Ahmed, Brooklyn College -Vice Chair for Legislative Affairs
Farbod Moghadam, Queens College -Vice Chair for Senior College Affairs
Roderick Hurley, Graduate Center-Vice Chair for Graduate Student Affairs
Greshawna Clement, Medgar Evers College -Vice Chair for International Affairs
Latsha Lee, Bronx Community College -Vice Chair for Community College Affairs
Daisy Flores, Lehman College – Vice Chair for Partime and Evening Student Affairs
Michael Betancur, Queens Community College – Vice Chair for Technology Fee Affairs
Executive officers will serve until October 31, 2019.