"Wheelchair Basketball" photo by Wright-Patterson Photo Gallery is licensed under CC BY 2.0
"Disability and Employment in the 21st Century – Let's Talk!"
The Abilities and Resources Committee hosted the first annual Disability Employment Awareness Month event at CUNY School of Professional Studies on October 4th, 2018. Dr. Christopher Rosa, City University's Vice Chancellor for Student Affairs opened the event with an address about the value of an inclusive workspace. Dr. Rosa pointed out that as a result of their daily challenges, disabled persons are brilliantly creative problem solvers, a skill employers actively seek.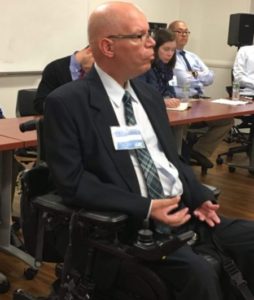 Dr. Rosa's opener was followed by a discussion that featured a five-person panel comprised of CUNY professionals working within the disability community and external advocates for the disabled and chronically diseased persons. A total of 45 students and faculty from several different CUNY campuses and affiliations attended the panel discussion. There was a palpable sense of ambition and solidarity for both the panel and attendees.
The intention of the event was to impart attendees with strength as well as a sense of hope by providing information important to furthering academic and professional growth despite any obstacles that may be encountered. Some of the key topics discussed included:
A working definition of accessibility, diversity, and inclusion.

Useful resources for empowerment.

Employment awareness issues.

Understanding of self-advocacy and disclosure.
The CUNY experts in disability services and the Abilities and Resources Committee are committed to improving the rates of employment for disabled persons. To achieve this goal, the committee is planning to provide more advocacy events. They also expressed gratitude to everyone that impacted the positive outcome of the seminar.
As many advocates in the disability platform would say: "Together we can make a difference"
For further information on the Abilities and Resources Committee, or other disability issues:
SPS Abilities and Resources Committee: Leonard Blades, Chair

(

[email protected]

)

Career counseling for students with disabilities at SPS: Christopher Fleming, CUNY LEADS Advisor

(

[email protected]

)

Student disability services at SPS: Christopher Leydon, Coordinator

(

[email protected]

)