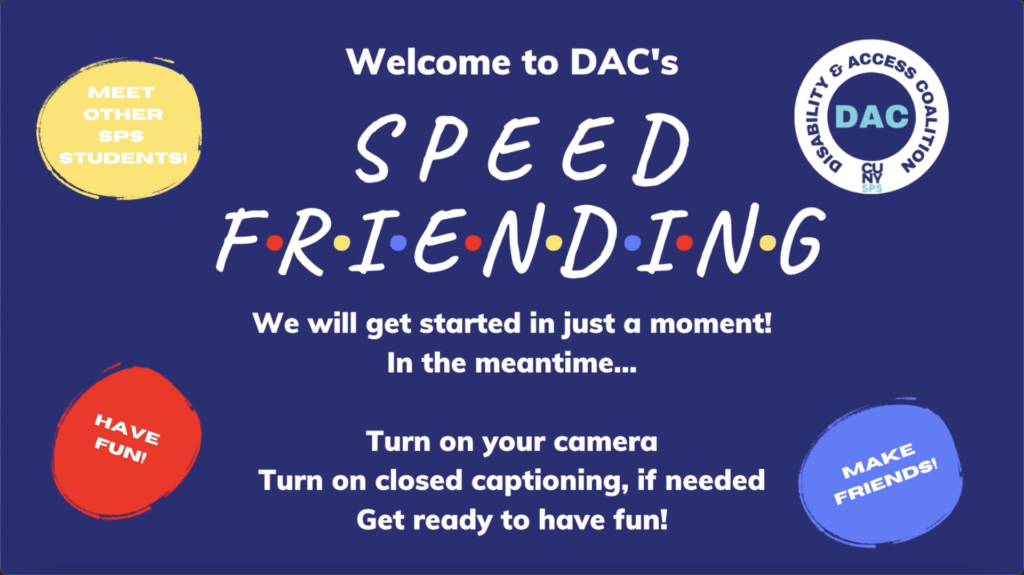 Ever wondered what happens when you combine fun conversation starters, a commitment to inclusivity, and a drive for community? The Disability Access Coalition's (DAC) Speed Friending event at CUNY SPS.
In an interview with Kaci Conley, club co-chair and Speed Friending event planner, we delved into her inspiration for this unique social gathering and its impact.
Conley first designed the Speed Friending event during her undergraduate studies at a different university, where she held the event for three years.
"I saw a need to have events that could break down barriers for the disability community while having fun," she said. "When I started the MA in Psychology program here at CUNY SPS and was elected to lead DAC, I knew I wanted to bring Speed Friending to SPS. Both times I've hosted it here at SPS, it's been an absolute blast!"
DAC's Speed Friending event aims to break down attitudinal barriers faced by the disability community and other marginalized groups. "There are 10 rounds of five-minute one-on-one conversations. Fun conversation starter questions are provided to help facilitate conversations," Conley explained.
When the event began, Conley had welcome slides, music, and an agenda prepared. Pairs of students were sent to timed breakout rooms, where fun questions such as "Do you believe in aliens?" and "What TV channel does not exist but really should?" were broadcasted for conversation starters.
"I also check in with everyone between rounds and chat with students that join the event while rounds are in progress… I'm doing a lot of functions at once," she said. Despite these challenges, Conley expressed her enthusiasm for the results of her planning and well-preparedness.
All CUNY SPS students are invited to participate in this annual event—the end purpose is to overcome obstacles and barriers one friend at a time. "I ask that students be open to others who are different from them and have fun," Conley said.
Despite the scheduled 10 rounds, the students often extend the time of the event, as Conley notes, "Even after the timed conversations, students want to continue getting to know each other… I think this demonstrates how important this event is." To ensure that students are able to stay in contact even after the event is over, they are encouraged to exchange contact information, often their LinkedIn profiles or Instagram handles.
Students interested in joining the DAC or participating in future Speed Friending or other events can follow their Instagram account or reach out via email at [email protected].