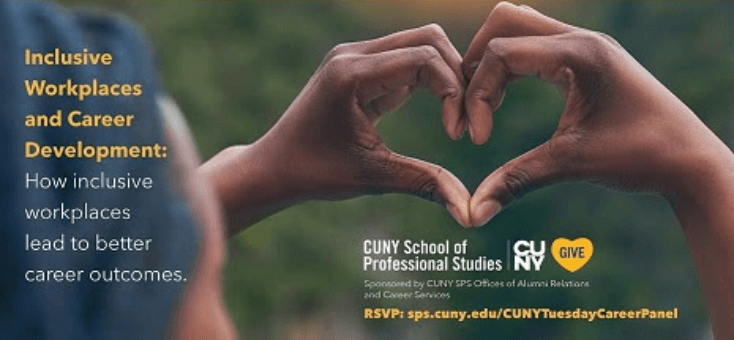 On December 1st, the #CUNYTuesday Career Panel featured a live Zoom event entitled "Inclusive Workplaces and Career Development: How Inclusive Workplaces Lead to Better Career Outcomes." The event was moderated by CUNY SPS Advisor, Kelsey Richardson, and featured panelists from the CUNY SPS alumni community, the CUNY SPS Foundation Board, as well as other prominent members of CUNY SPS including, Lattina Brown, Steven Dupré, Elaine Montilla and Phara Souffrant Forrest. Each panelist offered insight and shared their personal experiences involving inclusivity within the workplace, and the challenges and biases present when trying to implement a balanced workplace. Panelists also discussed topics of human resources, the interview and hiring process, and company metrics.
"Being in an environment that is inclusive allows me to show up each and every day as I truly am." – Steven Dupré 
The idea of inclusivity within the workplace, allows for representation of all people, no matter race, gender, age, or sexual orientation. Within the workplace, employees should be able to feel comfortable being themselves, and be able to offer their knowledge, skill set, and personality in full. A workplace is dependent upon its employees; therefore, it is time such workplaces support inclusivity and remove elements of conscious and unconscious bias.
"As a candidate you have more power than you think." – Elaine Montilla
When discussing the interview and hiring process, panelists made sure to emphasize the idea of a 360 interview. An interview is of course an opportunity for the hiring manager to get to know more about the applicant, however, it is just as much about the applicant getting to know the company. Panelists discussed how applicants should use the opportunity of an interview to ask questions, gain insight on the metrics and morals of the company, and discover whether or not the company would be a good fit for them. Panelists also expressed how applicants should do their research before an interview, using sources such as company websites, LinkedIn, social media accounts and Glassdoor reviews in order to gain as much insight about the company before the interview, and be prepared with relevant questions to ask.
"Work in the system but encourage the change you wish to see. Learn to include yourself into the space, but also include some of the space into yourself." – Phara Souffrant Forrest 
In regard to positive change within the workplace, panelists discussed how important it is for new employees to adapt to the environment that they are entering into, before expressing the need for change. A workplace, is a learning environment in which employees, managers, and people of all levels, should allow for space to learn from one another. Panelists expressed that a company will grow together when all of its members participate in learning opportunities and listen openly to each other.
"It's about being supportive of one another. It's about building that unity and staying connected. Always have a friend, connect with your classmates." – Lattina Brown 
When discussing advice for people currently seeking job opportunities, all panelists agreed that staying connected with one another allows for more opportunities to arise. Having connections with classmates, professors, and advisors allows for communication and opportunities for continuous learning and growth.
"COVID has taught us that we could do more than we ever thought we could. Which means we should never go back to the way it was." – Steven Dupré
Both in regard to inclusivity within the workplace, and flexibility for employees, panelists emphasized how we have learned too much this year, to go backwards. Specifically, with the pandemic, many employees have been working from home. Although this has altered the "norm" of a company workplace, panelists emphasized how it has done little to affect the actual work of the employee. With this in mind, companies should now be able to allow and build in more flexibility for employees whose lives don't necessary allow for the 9 to 5 in-office mold. Furthermore, we have learned so much about inclusivity and representation of all people, that companies should no longer be able to go on neglecting underrepresentation within the workplace.
The event sparked great discussion and insight on the matters of inclusive workplaces and career development. If you have any questions in regard to the topics discussed, or any specific questions for the panelists, please feel free to reach out to Nidia Cordova at nidia.cordova@cuny.edu.