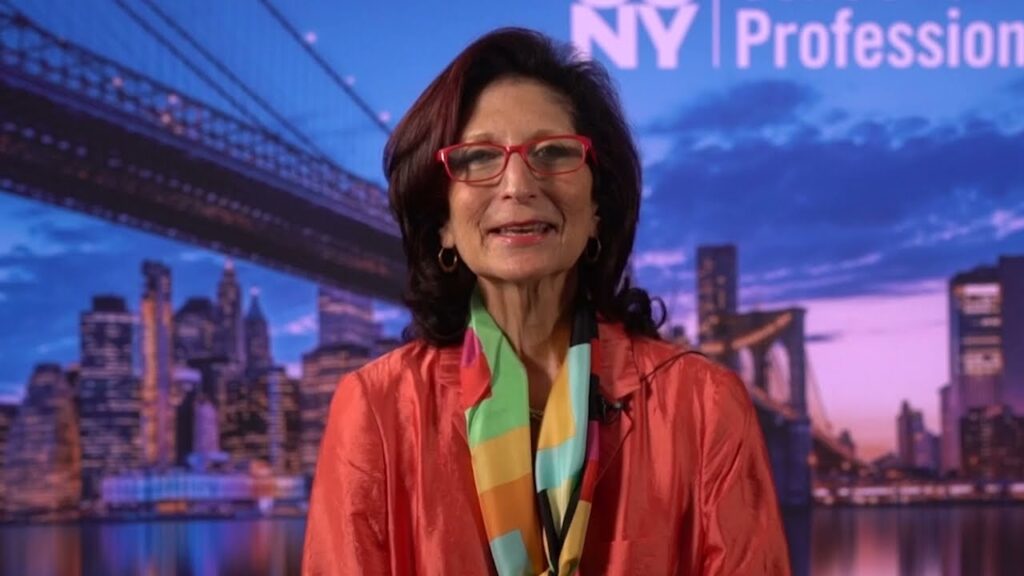 Dean Lisa R. Braverman is just six weeks into her tenure with CUNY SPS, and while she's been prioritizing budget and enrollment concerns, she thinks of her new appointment as a dream job.
"I'm completely thrilled," she said. "I'm absolutely overjoyed to be here."
Dean Braverman's appointment, announced in June, follows the retirement of SPS' founding dean, Dean Emeritus John Mogulescu, who was succeeded by Interim Dean Jorge Silva-Puras in 2021.
Dean Braverman met with The Kiosk to discuss her first weeks on the job, the challenges facing the School, and her plans for the academic year and beyond.
"Everyone is asking me, 'What's your vision for the School?' and really good leaders listen first, listen to their constituencies before they start embarking on their vision or their plans," Dean Braverman said. "I think it's more respectful of others that I listen to what is really going on in the school before coming forward with the plans and the things that I want to do."
Despite her excitement, Dean Braverman added that school spirit may be lacking during this transitional period. "There's been a sense of flux in the school that I think has impacted people's morale."
Dean Braverman's first priority is to speak to SPS students, she said. She plans to hear from students about what they want from their college experience as soon as possible, adding that a focus group, poll, and virtual Q&A are all coming up at some point.
Her first direct meeting with students will take place during the CUNY SPS Student Association's October meeting on October 18 at 6 p.m. All students are welcome to attend.
Before joining SPS, Dean Braverman has had senior leadership roles in public, private, and online colleges with a resume that spans more than 25 years. She has served as dean of the Anthony J. Petrocelli College of Continuing Studies at Fairleigh Dickinson University, dean of continuing and professional studies at SUNY Fashion Institute of Technology, dean of extended education at New York Institute of Technology, and dean of professional studies at Pratt Institute. She has also served as vice provost for academic and faculty affairs at Excelsior College, chief academic officer at Jones International University, and associate provost for adult programs at Long Island University.
Budgetary and enrollment issues
Dean Braverman inherits a CUNY campus with slowing graduate school enrollment and a drastically lowered budget that she hopes to increase as soon as possible.
"There should be no issue that we continue growing from semester to semester, but we're not on the graduate level," Dean Braverman said, adding that SPS is seeing increases in undergraduate enrollment, but should be seeing the same for the graduate level. Her team has already assembled a taskforce to find a solution, and will hire a chief enrollment manager to create a long-term strategy for intentional growth, she added.
"Enrollment is really the health of the unit, as are some other factors, but you really want to know that you're growing, and the online market is one that is predicted to grow indefinitely," she explained. "We grew very nicely this fall, [but] we're not intentionally growing. We don't have the solid strategy that we need."
Meanwhile, Dean Braverman is working to cut costs and replenish SPS' budget, which decreased in the past couple of years due to excessive spending, she said.
"CUNY SPS, thanks to John Mogulescu, was one of the wealthiest and most well-cared for units in the entire 25-campus system," she explained. "John was able to keep a multimillion dollar reserve that he would accrue and save. That allowed him to always have a backup should anything go wrong and allowed him further to invest in innovation."
That investment resulted in programs like the Museum Studies MA and Disability Studies MA degrees, she added.
"Decisions were made to spend it rather than to hold it the way John had," she said. "Those actions really drained down the reserves of the school, and it was very significant. It wasn't a little. Most of what had been there was spent. So that is a wake up call of big proportions for me. It's what I've inherited. I would not have made those decisions myself."
Dean Braverman is meeting weekly with her budget team to contain costs wherever possible, as well as finding more grant money, which will also drive revenue along with higher enrollment. Last week, Dean Braverman discussed the issue during a community meeting with 150 SPS faculty and staff.
"We're not in the red yet, but if we don't pivot right now and change how we are running things, we could be at risk," she said. "This is the first time in history SPS has been there. So that was a pretty shocking discovery."
Getting to know students
Looking ahead, Dean Braverman also has a set of long-term goals she plans to chip away at, including the expansion of SPS degree programs. Microcredentials, or focused credentials designed to teach specific, in-demand skills, are also an untapped market that Dean Braverman thinks would bring in much-needed revenue. She also wants to expand business-to-business degree program recruitment, which targets employees of organizations that want additional degrees.
"We keep depending on the open public for our student base, and there's lots of people in organizations who would like degrees," she said.
In spite of financial concerns, Dean Braverman wants to focus on the student experience. Among the questions Dean Braverman wants to ask students are: "Are we diverse enough in our pedagogy? Are we inclusive enough and address the large diversity of students that we have in our population? Do we express care and concern and meet students where they are? Do we appreciate their lives and their life circumstances if they need to be absent, or if something's going on in their families?"
"We are not here at SPS only to focus on our administrative work, our budgets, our programs," Dean Braverman said as her final thought to students. "Our job is to serve students. That's the number one job. We do all those other things in service to students."