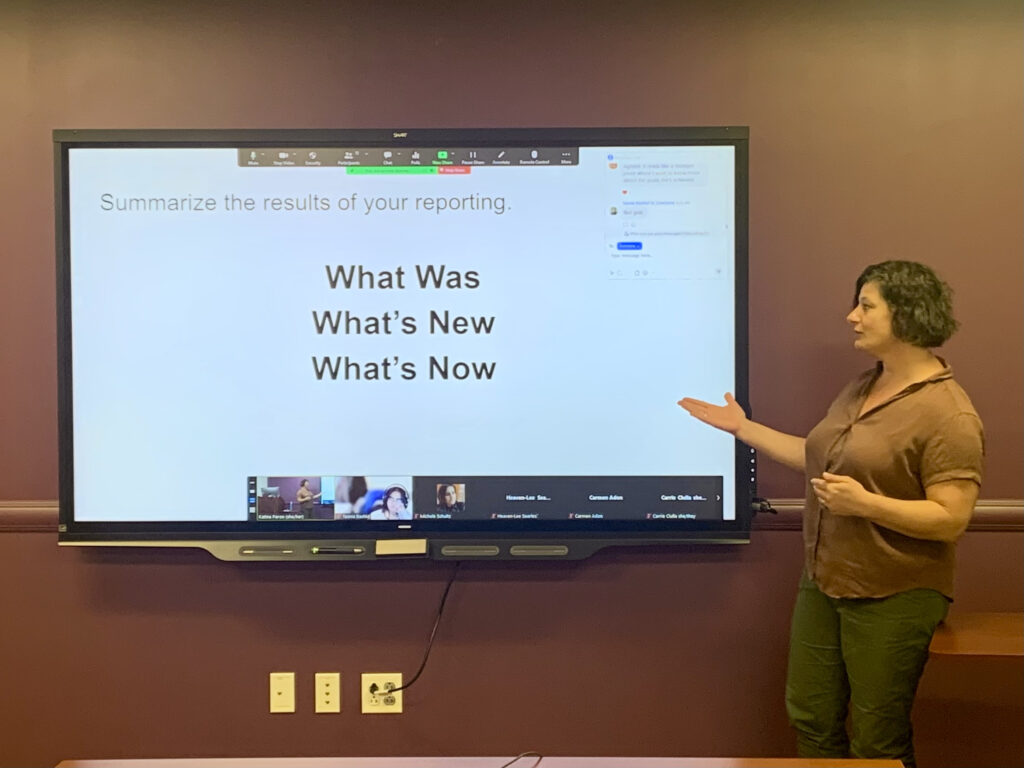 Have you ever wondered what it takes to be a student journalist? While The Kiosk covers all that goes on at CUNY SPS, it also provides learning opportunities for students who want to improve their reporting or writing skills—after all, any student has the chance to be published on our site. You don't have to know the difference between a lede and a nutgraf, or what TK stands for, but it can help.
To start off the semester, The Kiosk held the first workshop in its Fall 2023 Journalism Workshop Series on Tuesday. The workshop, designed to teach aspiring student journalists, writers, and photographers how to write stories and take on multimedia projects, was held both virtually via Zoom and in person at the CUNY SPS campus on 119 West 31st street.
The workshop was hosted by Katina Paron, who serves as the editor of Dateline: CUNY. Paron has spent years as a journalism educator, and has also authored "A NewsHound's Guide to Student Journalism," a handy introduction to writing for school newspapers and companion to the all-important "Elements of Style" by Strunk and White.
The first workshop, an introduction to student journalism, focused on news values, types of news, the anatomy of a story, best writing practices, and the growing role of artificial intelligence in the newsroom.
News values in particular are a great way to assess if a story is newsworthy, Paron said. During the workshop, Paron went over the following list. Many of her points on news values easily apply to the kinds of stories The Kiosk is always on the lookout for:
Timeliness: The more recently it happened, the more newsworthy it is. Anniversaries also make something timely if it didn't just happen.
Proximity: How close is it to your audience? If it doesn't affect the SPS community, is it newsworthy? Everything should be about or affect the SPS community.
Impact/Consequences: What are the impacts or consequences for the community you're writing about?
Prominence: How big is the name or issue involved? For example, the Dean of CUNY SPS is a local important figure in the community. Prominent issues like climate change or the migrant crisis might impact the community as well.
Oddity/Rarity: A novelty story that might be fun for readers.
Conflict: What's the friction in this story? Most good news stories have some kind of friction — sometimes there's a built-in friction between students and administration. It helps to look at opposing voices that give the story a sense of action.
Human interest: Things we care about, like a profile on a student, professor, or other faculty member.
Currency: Social currency—what's the thing everyone's talking about right now?
Localizing the news—or proximity—is a crucial aspect of student journalism, Paron added. Some questions to consider when looking at a bigger issue that may or may not be about SPS:
How is your community affected by a world/national/city-wide issue?
What are your community connections to world events?
Is anyone in your community impacted by this?
"As a journalist, you don't need to have the answer to how this issue affects the community," Paron said. "Your job is to find the answer, to find the people that know, and that can come from experts."
In addition to quotes from experts, quotes from people in your community impacted by the issue or data from your community can also be helpful, she added.
Another crucial aspect of student journalism, and all journalism for that matter, is pitching story ideas, Paron said. When pitching to newspapers, be sure your pitch has a clear focus, tells the news of the piece and why it is important, has a unique angle, and tells the editor how you will cover the story. It also doesn't hurt to include research or statistics to show why the story is important.
Some more questions to consider:
What's happening now that wasn't happening before?
What's happening now that wasn't happening before?
Why do you want to tell this story now?
Why does it matter?
Who will you talk to for the story?
One of the most challenging aspects of reporting about CUNY SPS students is that they're all online. Without a physical campus to connect with students face to face, journalists should make use of social networks, Paron advised. Plenty of student clubs have dedicated Instagram pages, and for those who still use Facebook, there's even a CUNY SPS students group. And of course, checking in with your professor if you're allowed to post on Blackboard might be a more direct way to reach classmates, she added.
Paron's workshop covered much more than the points mentioned here, but this should serve as a useful starting point for any aspiring journalist. If you'd like to pitch to The Kiosk, check out our submission guidelines.
The Kiosk will be holding two more workshops this semester, on Tuesday, October 24 and Tuesday, November 14. Stay tuned!