On May 24, the night before the main commencement ceremony for 2023's graduating students, the CUNY SPS Black Student Union held a celebration of its own, honoring Black graduating students during its annual Black Graduation Celebration Ceremony.
For the third year in a row, the pre-commencement ceremony spotlighted the unique experiences of Black undergraduate, graduate, and certificate program students. The ceremony was held virtually and on campus at 119 West 31st Street in Manhattan, with nearly 50 in attendance.
The Black Student Union's mission is to "create a safe space for Black students at CUNY SPS" and to "empower our Black students on campus and provide them with the resources they deserve to have a holistic student experience." The BSU does this through bringing in speakers like authors and journalists, hosting mentoring sessions, and creating events like the Black Graduation ceremony.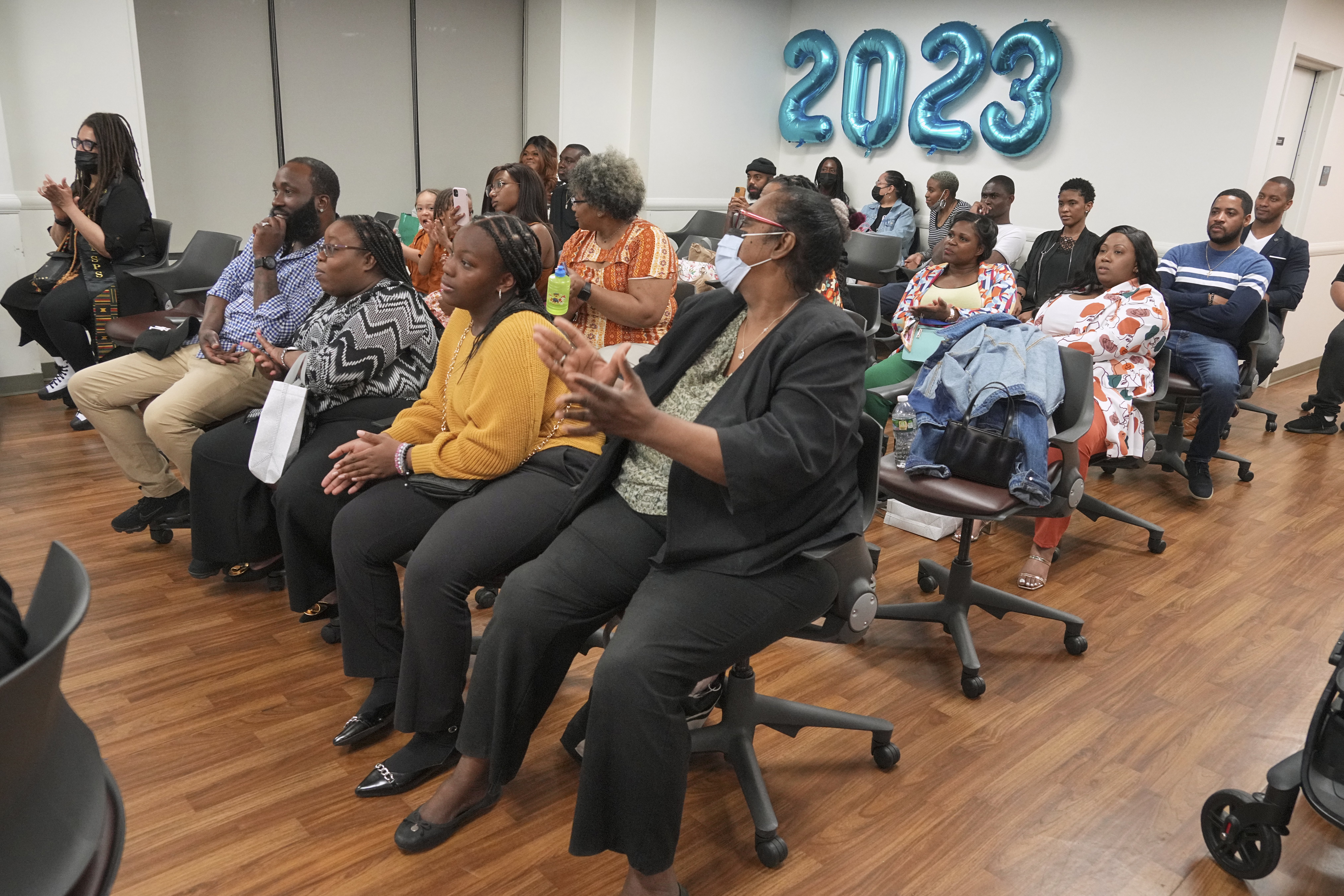 Asantee Mitchell, who is receiving her BA in Disability Studies this semester, spoke about her own journey in the BSU during the ceremony's opening remarks. Mitchell also delivered the student address at the in-person commencement ceremony for the full 2023 graduating class the next day, on May 25.
"It was a privilege serving alongside amazing people who are determined, willing and excited to create a safe space for our students talking about conversations that a lot of people don't want to talk about," Mitchell said.
"Being a part of Black Student Union means that you are ready to learn, engage and spread awareness on issues affecting the Black community," she added. "We have been able to create a platform for Black students to be able to achieve greatness for years to come."
Keynote speaker Dr. Claudia V. Schrader, who serves as president of CUNY Kingsborough Community College (KCC), spoke about grads overcoming "opps," or opposition, to success. This can come in the form of people that weren't supportive, she said, as well as the toll the pandemic took on so many students. The worst opp of all can sometimes be ourselves, she added.
Dr. Schrader also explained the importance of the BSU beyond graduation. "As far as I'm concerned, the Black Student Union you belong to is a chapter of a much bigger movement," she said. "So your commitment beyond being a student in the BSU is to continue to learn, engage and spread awareness of the issues affecting our community."
Dr. Schrader ended the speech with a call to lift up other students. "If the aim of the BSU was to create a platform for Black students to be able to achieve greatness for years to come, then you are charged with helping others beyond SPS and spaces that you occupy to achieve greatness for years to come," she explained.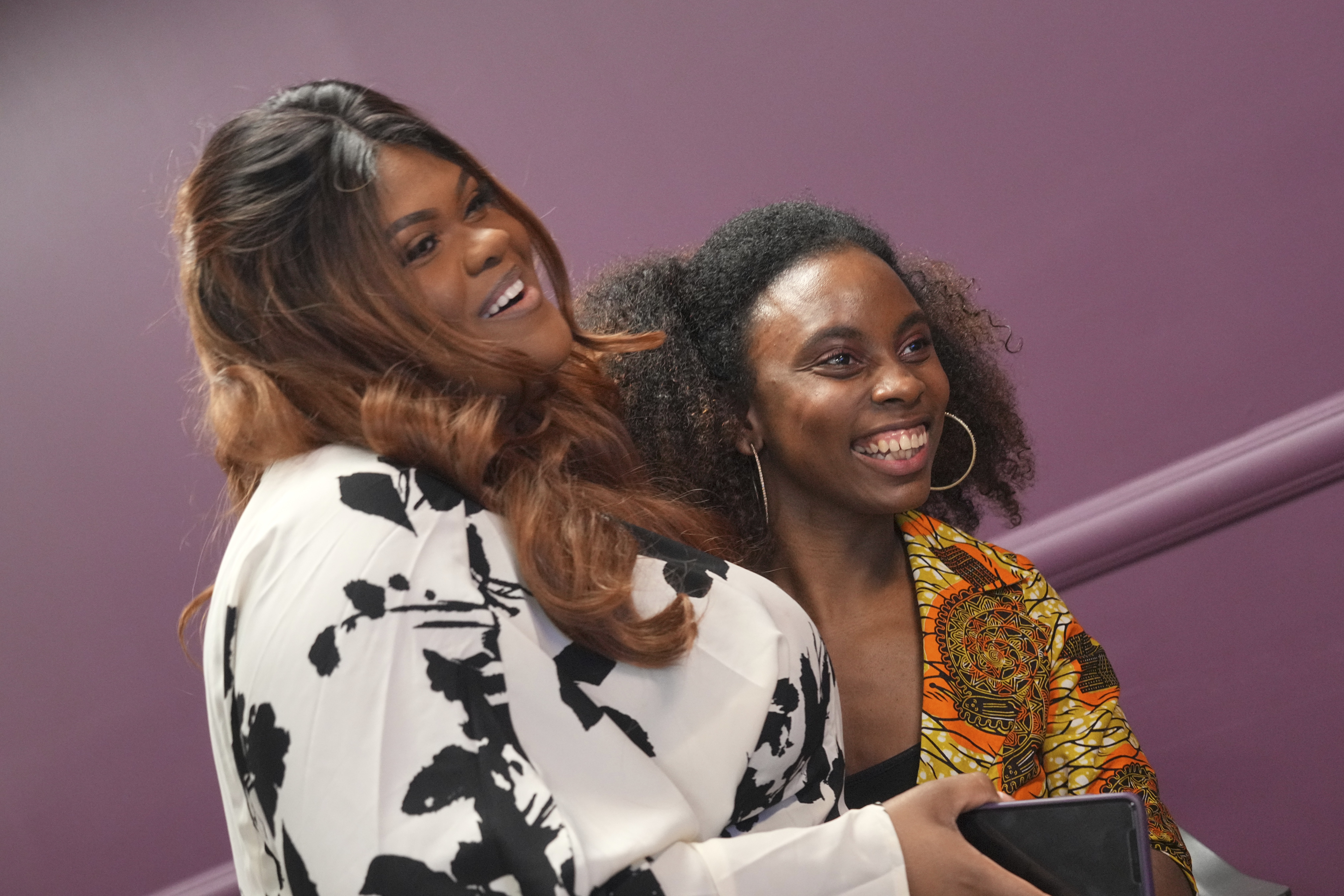 Interim Dean Jorge Silva-Puras, who was present virtually, also had some words of congratulations and encouragement for the grads, reiterating Dr. Schrader's call to help others.
"Think of ways in which you can give back," he said. "You have been given an opportunity for a great education. How can you pay it forward? How can you mentor students who come after you, to help as you join the workforce, to allow for networking opportunities for fellow CUNY SPS students and alumni?"
Silva-Puras concluded the ceremony's remarks with heartfelt thanks to the entire CUNY SPS community.
"I also want to thank not only you for what you have accomplished, but also your families," he said. "Whether it is your parents, your siblings, your kids. And many of you I know have children. They have also sacrificed tremendously during this time. They have also sacrificed, but it is because you are making a huge investment in your future and that of your family. And for that I congratulate you and expect to see you all tomorrow at the Louis Armstrong Stadium for the in-person commencement ceremony."