Editor's note: In this installment of the CUNY SPS Club Week Spotlight series by The Kiosk, members of the Health Services Administration Organization, Software Development Club, and Esports Club share insights about their club activities during and outside of Club Week.
If you missed Club Week, which took place over the course of a handful of weeks last month, CUNY SPS offered a preview of the many student clubs that meet regularly throughout the school year in a series of intro meetings.
Health Services Administration Organization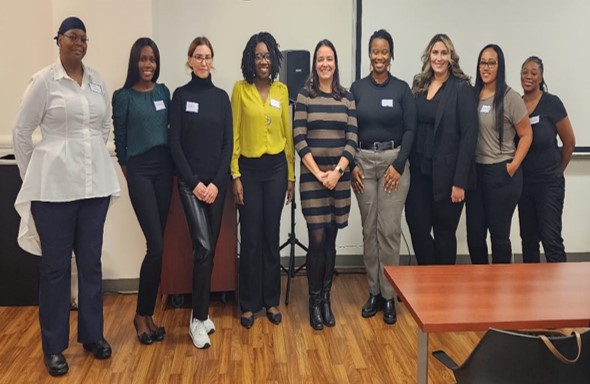 By Tracey-Ann Jordan
The focus of the Health Services Administration Organization (HSA) is to provide educational and networking opportunities to aspiring students who desire to explore issues in leadership and advancement of the healthcare system. Our core values are integrity and innovation—we are results oriented, ethical, accountable and we strive for excellence.
Our mission is to provide members with opportunities for career success by expanding innovative ideas and developing strategic leaders in the advancement of the healthcare system.
I joined the HSA because I wanted to connect with like-minded people. Our classes are all online and even though we have discussion boards, we don't really connect. Being a part of the HSA club has given me the opportunity to connect with other HSA students as well as students in other majors attending CUNY SPS, as we meet regularly on Zoom and sometimes in-person. We collaborate and work together on events and it really enhances the CUNY SPS experience.
I would tell students to join HSA because they will gain leadership skills, team working skills, expand their resume, and have the opportunity to network and meet leading people in the healthcare industry. We also have fun together and create opportunities for our HSA team to just take a break and enjoy college life.
During Club Week, we did a presentation of our club and answered questions from anyone interested in joining us. We also offered them the opportunity to become a student leader in the HSA organization.
In our regular club meetings, we welcome new members, discuss upcoming events and explore the different thoughts and ideas of the HSA team members. We also check-in on each other during those meetings and encourage each other as well.
Some of our past events include Public Speaking, Virtual Networking Event, LinkedIn Professional Development, as well as some fun stuff such as game day and mini golfing. We are in collaboration with the Health Information Management club to put on a big networking event in November. We are also doing some in-depth Excel training that is starting October 17th.
For more information about joining HSA, check out their Instagram or email [email protected].
Software Development Club
By Tasnia Rashid, Vice President
The Software Development Club (SDC) is for all CUNY SPS students interested in building connections and community to share resources and socialize with other students who share similar interests in programming and software development. Our club envisions an environment where students interested in software development come together to foster creativity, learn, and work together. We are committed to empowering future and current learners while creating a diverse and inclusive community.
I first joined the club as a way to get involved with the community at CUNY SPS and found myself holding a leadership position as the vice president of SDC. I love being able to learn from people with more experience and finding learning resources to share with everyone.
During Club Week, we conducted a typical meeting and introduced some of the leaders of the club. In a general meeting, we will most likely be working on a project. We aim to make these projects beginner-friendly, so anyone can join. Instead of general meetings, these will be events hosted by Philip Chang, an industry specialist and programmer. This semester, he will be teaching the basics of Python as we work on a simple text-based adventure game. We plan on holding six of these events with Chang throughout the semester.
For more information about joining the Software Development Club, please visit their Instagram page or email [email protected].
Esports Club
By Tasnia Rashid, President
The Esports Club's mission is to create a space for students who are passionate about gaming and foster a community for both competition and collaboration. The focus of the club right now is to play games with members within the club, from first-person shooters and multiplayer online battle arena games to battle royale and obstacle race games. Members who win during certain games will have the chance to earn gift cards as prizes. 
I joined this club because I am passionate about gaming and wanted to find a community of gamers where we can play and discuss games. In a typical club meeting, members will be playing a different game each time. During Club Week, we split into groups to play Fortnite, a free and accessible battle royale shooter.
Looking ahead, we plan to hold more events in the future that delve into Nintendo Switch games. And as Halloween approaches, we are also planning to play horror games like Dead by Daylight. We are always open to new members joining with suggestions for games they love and want to play.
For more information about joining the Esports Club, email [email protected].